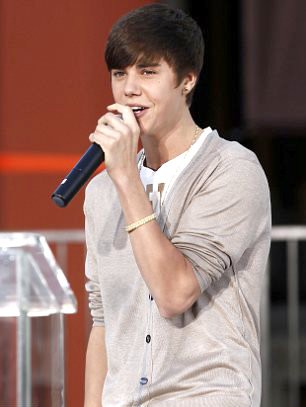 Justin Bieber did what he does best when paying tribute to his idol, Michael Jackson, at a recent ceremony outside Grauman's Chinese Theater. "I used to look in the mirror and sing 'Rockin' Robin' to myself when I was really little. I want to sing a little of that for you guys," he said before belting out the lyrics to his favorite song.
"He rocks in the tree tops all day long/ Hoppin' and a-boppin' and singing his song/ All the little birdies on Jaybird Street," the teen popstar sang. He received warm approval from the crowd, which included Quincy Jones, Smokey Robinson and Chris Tucker. He got off the stage after declaring his love for the late King of Pop.
Before singing the song, Bieber gave a heartfelt speech. He said, "Michael meant so much to me. I know he meant a lot to you guys as well. He was more than entertainer. He was an inspiration. He was kind, gentle and very charitable. .. People are going to remember him for his dancing and singing, but people have to remember him for being the man he was."
His appearance on the stage was introduced by MJ's daughter, Paris. She said, "I want to introduce you all to a performer who also found stardom at a very young age, just like my Dad. My father would have been proud to mentor to someone like him and would be very proud that he came to today's celebration. We are all very big fans of him, and his music, I know I am."